THIS SPACE IS UPDATED REGULARLY


STOP PRESS for Thursday 27 December 2012 at 19:10pm
SORRY - SEASON ENDED
=========================================================
We had a great weekend 15-16 December - musicians - Santa - huge crowd weather pretty well perfect - great atmosphere.
It always pays to double check here just before setting off.
-----------------------------------------------------------------------------------------------
===================================================
I'll update this bit later with a summary of how the season went.

2012 SEASON IS IN FULL SWING - IN FACT IT'S NEARLY OVER

We had quite a heavy early crop - mainly the variety Merchant, which is well recognised as being a top early cherry - nearly as good as a main-season or late cherry. Then last Sunday Rainier (the ultimate white cherry) and Sunburst were picked out as well as folk starting on someof the main crop.

Sometimes we run out of ripe fruit; when that happens we'll show that here and on the phone message. Because we have been doing this for so long and our reputation for quality and price is so well known this can happen from time to time - so when it does - sorry but CLOSED MEANS CLOSED.

Actually, this season looks like being a very short one. The blossoming period was very compressed and, although it didn't automatically follow, the harvest period is also turning out to be very short. It's all down to the vagaries of the weather. Luckily the customers are also coming all at once so it's matching up nicely, but sadly it'll be over all too soon - so don't miss out.

We always keep this page and the phone message up to date so there should never be any problem.

On any day when we're open, if we start to run out of fruit we update this page and the phone message - so look here (hit F5 or refresh to be sure you've got the latest version) or phone any time to hear the current message.
===========================================================================


The model railway now has three loops of track (one has Santa propelling himself on a handcart) and also a small slotcar track. It occupies twice the space of last year's! The children have been making good use of the trains so far. The top video is this year's - underneath is last year's.

The kiddies (and grown-ups) hit a button and 3 trains and 2 racing cars burst into life along with the lighting. I'm aiming to improve it every year. It's a tough job but somebody's got to do it.

On the livestock front Gemima the cow has gone back to her home next door; you can usually see her over the fence from the car park, along with a baby calf. The goats are all OK and we've recently acquired two alpacas. They're a bit shy at the moment but we're hoping to persuade them to come down to the paddock by the shed fairly soon for photo-opportuinites.

==========================================================
To avoid confusion for new customers, here's what our frontage looks like. It's on the right hand side 760 metres up the road.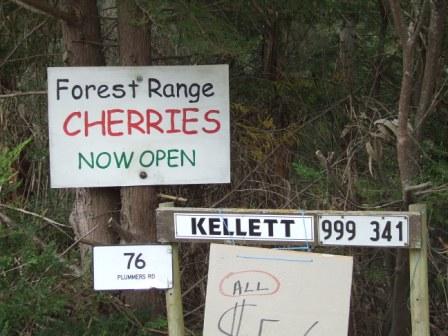 And you drive down the gumtree lined driveway shown here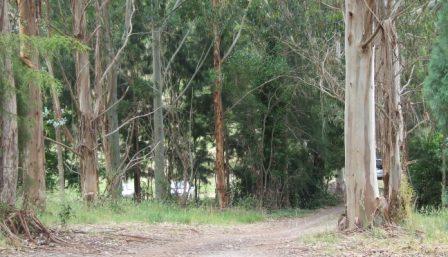 to our car park and sheds.
You may sometimes find other signs for PYO Cherries before you get to us - that's not us. Nowhere else will you get the same quality for the price as here. That's what we're renowned for.
-----------------------------------------------------------------------------------------------
Hours are 10:00am - 6:00pm but you need to come before 5:00pm to allow time to do it. Unless you can pick as fast as this guy that is.
NB the sour cherries which we sell are not under-ripe sweet cherries - they are small and always sour and intended for cooking etc. See our recipes page.

For most people it takes between 30 minutes and 1 hour to fill a 5kg bucket with sour cherries. These machines do it a bit quicker.


====================================================================================


Don't forget that the best dessert at this time of year is Cherry Clafoutis. It's easy to make and if you do it the French way you don't even need to pit the cherries.

See our
Recipes page (click here)
for these and other great cherry recipes.
It always pays to check this page or the phone message on 08 8389 8500 to be sure before driving up.

You can follow updates to these messages on Twitter @frcherries. (all lower case)

Click Here to See Tweets so far